The meeting with Jean Paul Maunick was anything but a chance encounter.
[quote]Incognito is a British band, as well as one of the members of the United Kingdom's acid jazz movement. –wikipedia [/quote]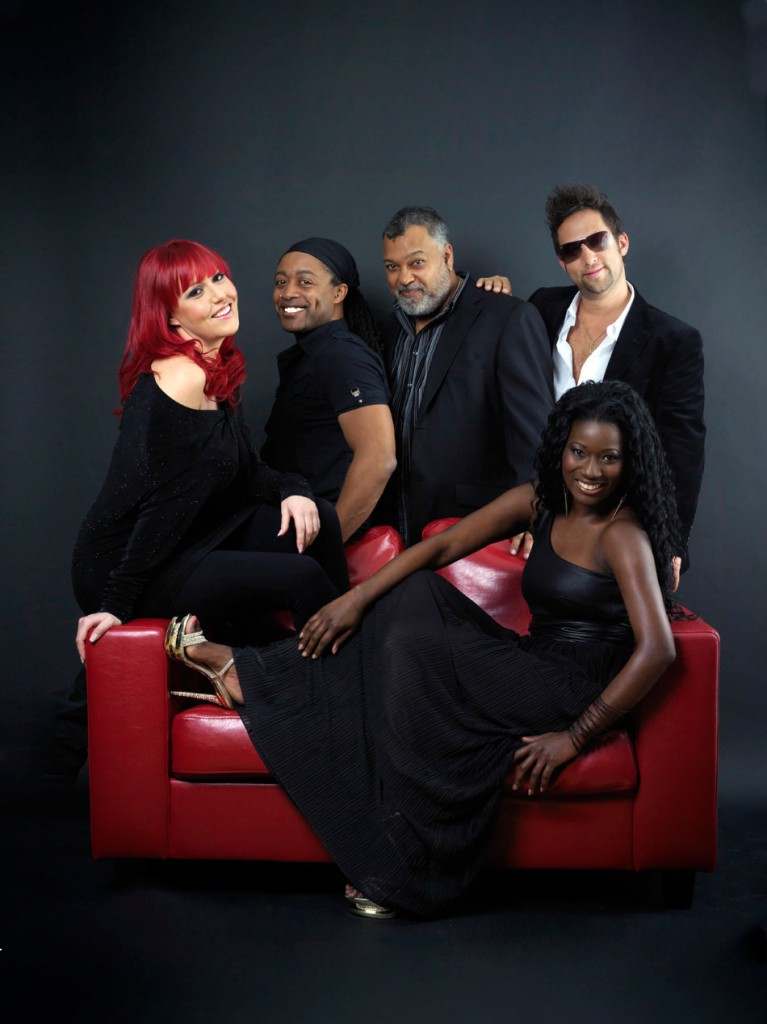 Incognito as a band
Music Saved My Life
[quote]Late one night while designing the Mecha 01, I realised that everytime I was designing something late at night, incognito would be playing on my amplifier. It was as if some of the designs were channeling some strange creative energy from the music. I knew I had to reach out and see where this road would bring me. The worse case being that I wouldn't receive a reply. I just wanted to have one of those stories I suppose.[/quote]
After deciding that contacting the band was the right thing to do, the next question was how do you actually contact a jazz band that was half way across the world? The band may be called incognito for a reason? Surely, in the day and age of the internet it couldn't be that hard though. Searching through their contact page on the internet yielded a contact form. Well, better than nothing I thought, so off went the fan e-mail on Sept 2012. A couple of months go by and I had forgotten about the e-mail when suddenly I receive a random e-mail thanking me for my support.
"I didn't come this far to receive an automated PR reply!" I told myself, so I replied to the first e-mail and the man himself Jean Paul Maunick replies in turn! We go back and forth with a couple of e-mails and an initial offer to send him a watch as a show of gratitude for the many years of great music turn into an idea to design an INCOGNITO + moVas watch.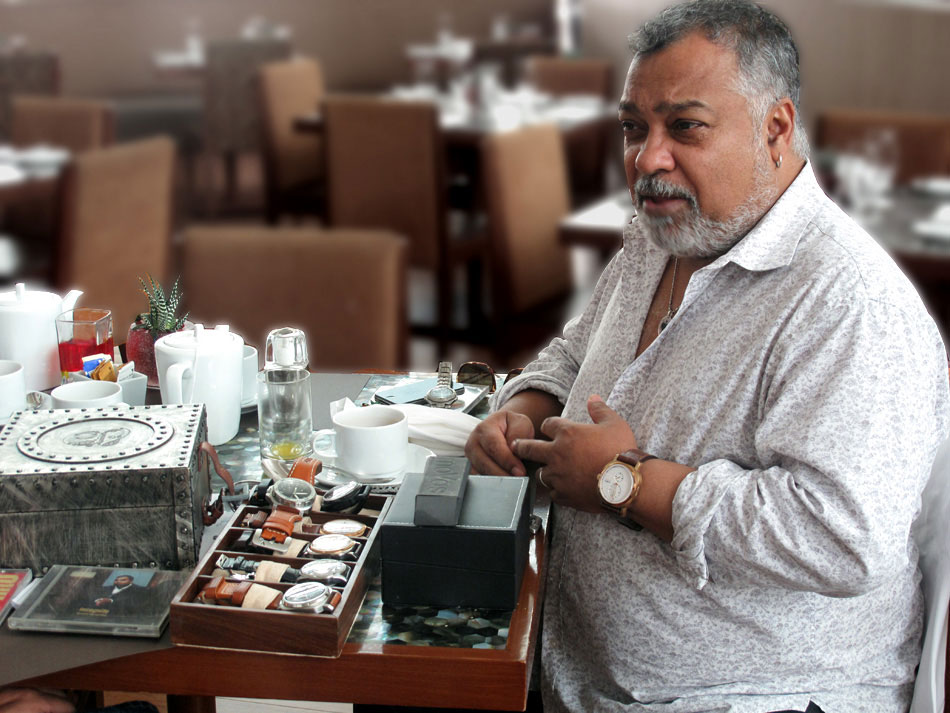 Bluey with his Military Regulateur Rose Gold PVD.
The Meeting
Fast forward a year, the Mecha 01 is slowly taking shape, but I'm feeling bad for not fulfilling my original promise to give back for all the wonderful music and uplifting energy I had gleaned from the first Incognito album I had purchased as a university student, so I reach out once again to 'Bluey' to send him a watch first before the release of the Mecha 01. As fate had it, he was actually on his way to Singapore for a concert!
We meet up at Marina Bay Sands on December 2013, and settled down for a short chat. An instant connection was established, and what was originally supposed to be a 1 hour chat turn into a 2 hour session about music, the creative process, life and parallels between our journeys. Seemed like 2 old friends catching up after a long time apart. The emotional connection was somewhat electrifying and although half of that can be traced to my man-love for this guy, the other half was in my view an instant acknowledgment of our struggles to have a voice in this crowded world.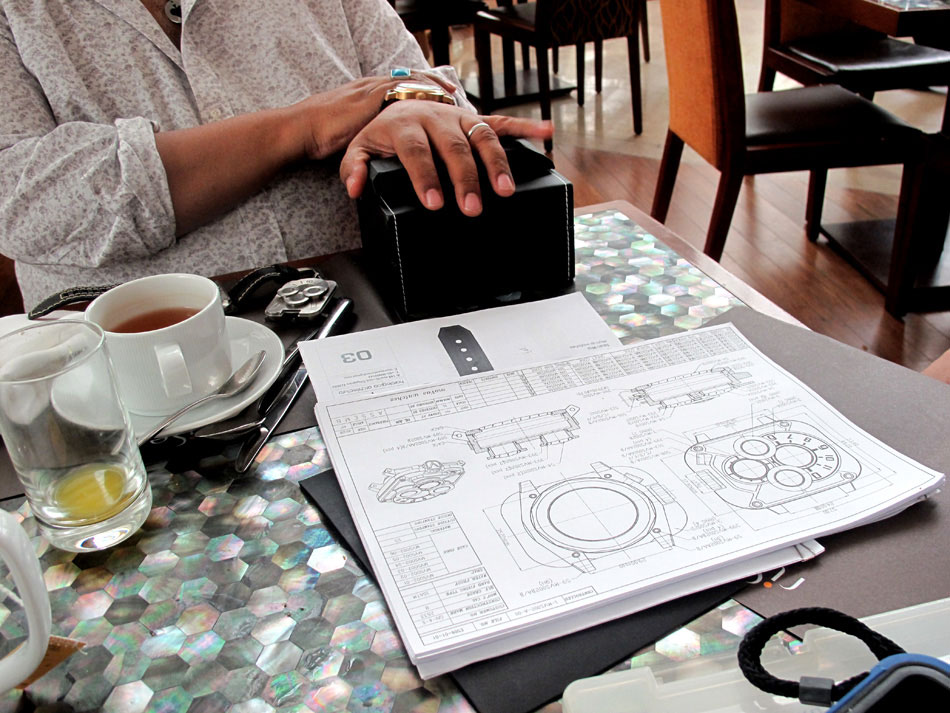 Bluey being presented with the drawings for the Mecha Incognito
Mecha 01 Going Incognito
The idea of using the mecha 01 as the basis for an Incognito watch was a somewhat controversial one. The initial sketch wasn't received very well by Bluey. His leanings were more towards a classic watch, hence his choice for our regulateur which is a more dress- sports watch. However, understanding the creative process, he gave us some leeway to proceed along and to see what the final outcome would be.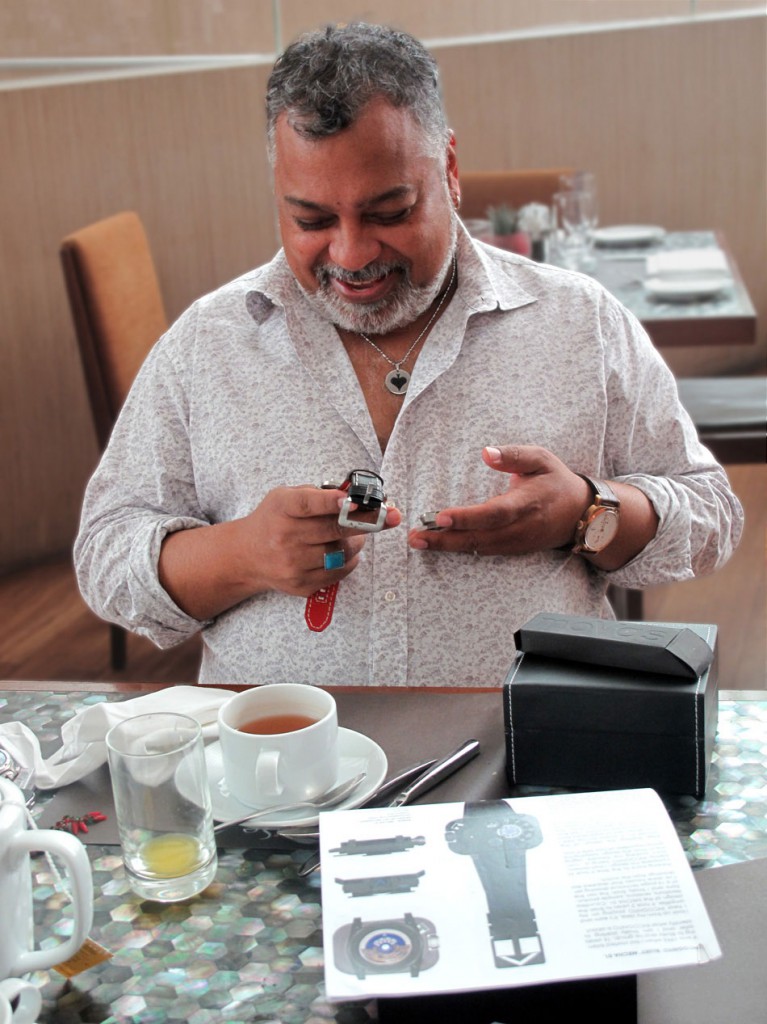 Bluey inspecting the mecha 01 prototype
The Outcome
To say that he was pleasantly suprised would be an understatement. The three dimensionality, construction and overall detailing of the watch drew many parallels to the composition of a jazz song.
In essence, the Mecha 01 is no different to how you would compose a jazz song. It has layering, complicated construction detailing and junctions. It is made of a sum of parts much like a song is created with many different instruments.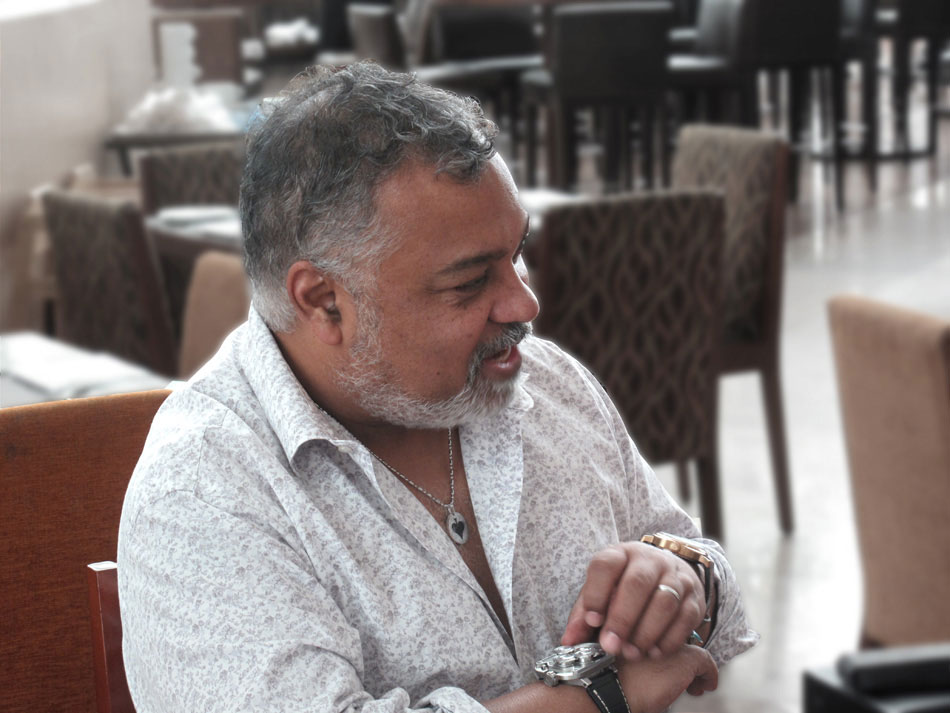 Bluey trying on the Mecha 01 prototype
The two time zone complication also suited his lifestyle well as a travelling musician. The size of the watch and wrist presence reflected well on the larger than life personality that he is. The final colour scheme for the watch which is a Black DLC with blue accents (referencing Bluey and Jazz) would set it apart from the regular version of this watch. Seeing and trying the prototype really cleared all doubt about the suitability of this design and the vision we had came across very well.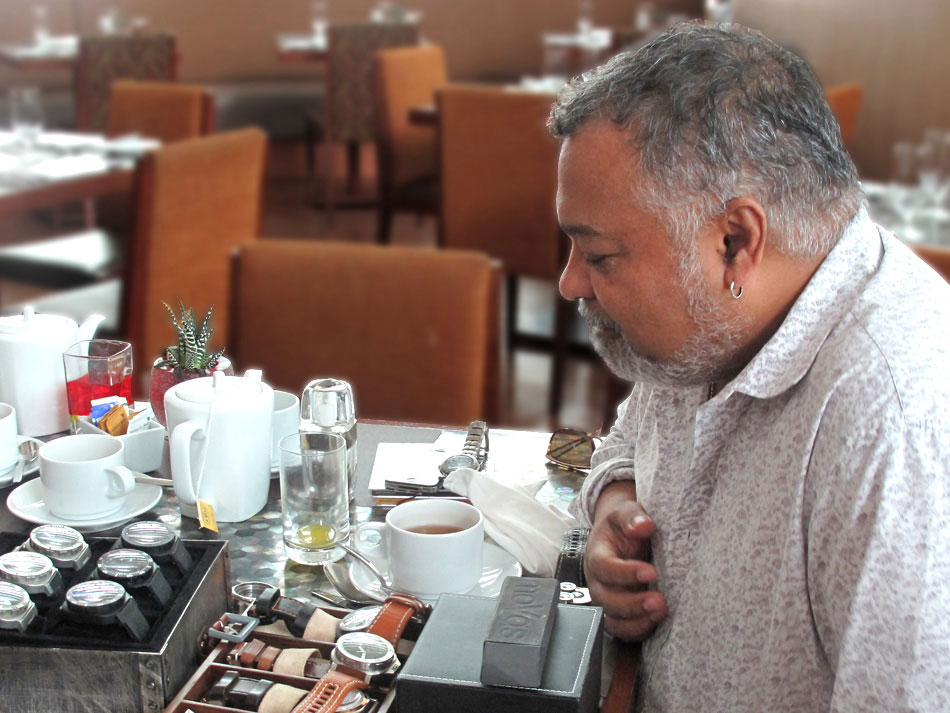 Bluey inspecting the moVas watch collection.
The Road Travelled
This coming together of minds sums up my journey in horology very well. You never know what is at the end of the road if you don't go down it. If I had not sent off that e-mail a year ago, risking sounding like a lunatic fan (that I gladly admit I am), I would never have come to meet my all time favourite living jazz artist. The watches that are created under moVas are statements in my life. With each design, we put ourselves out there and are open to criticism, cynicism and ridicule. But if we don't do it, we never know how a simple idea from a line on paper can possible grow into something big to be enjoyed by others.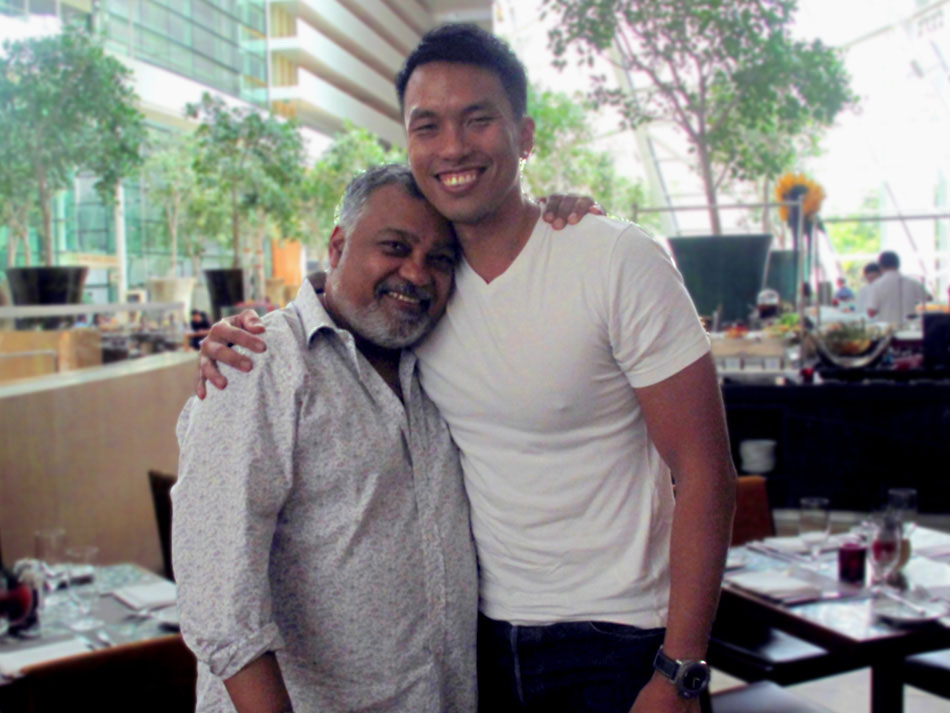 Bluey with a starry eyed fan.
Special thanks to:
Bluey and Incognito for spending the time. Please visit them here.