Have you ever woken up one day thinking enough is enough? The Exotica Twin Timer is a watch designed during such a day. In 2008 (7 years before the actual launch of the watch),  after we started with the first Military range of watches, we were getting comments about our designs being influenced heavily by Italian Military watches. Although these comments were fair. naturally most customers did not understand that there is no supply if there is no demand and the original idea of our brand was indeed to supply Italian Military inspired watches at a more reasonable price with elements of our personalities added to the designs.
We didn't want to be pigeon-holed at such an early part of the brand as just another 'homage' brand and started thinking of a watch that would be totally different to anything out there. The first thought was, "I wonder whether a watch can be designed first before an actual movement is sourced or created", much like a Function Follows Form scenario. The following was the first concept 3D rendering of what was originally known as Mecha 01.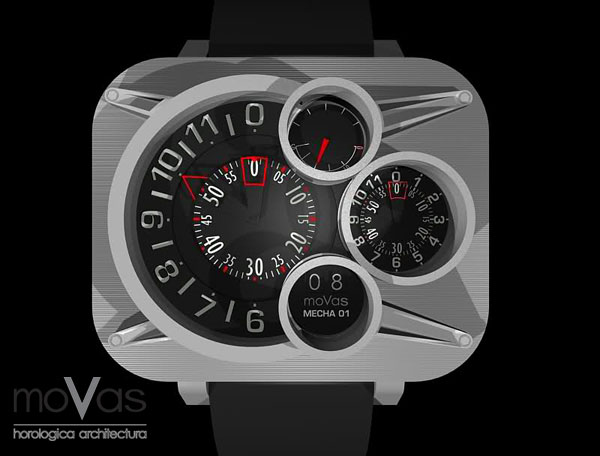 A couple of variations to the theme were done, but what consistently came back was a rounded corner case shape, with a bracing support structure, 4 separate displays and a GMT function. The first idea had a massive display on the left which we eventually changed due to what was available in the market at that time.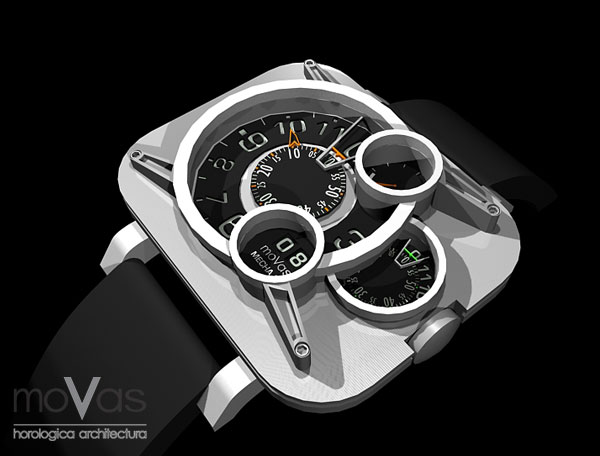 After the initial concept, we knew we had something promising, but it wasn't the right time to launch it as we were not sure of the direction we wanted to take for moVas. The design required alot of refinements, and we felt that we did not have the requisite experience or knowledge to do it justice. Even so, we moved on with the prototyping and the first prototype is shown below. It was a very primitive wire-cut block to assist us imagine how we could create the same effect as our original sketch. We also found a movement that could be adapted to the watch case and give us what we wanted which brough with it new challenges of making it fit into the form that we wanted to create.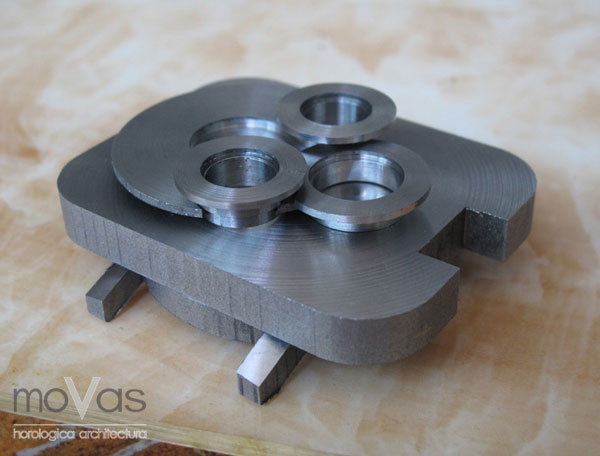 We could have easily just done a full CNC on the 4 openings and sandblasted the whole case and called it a day. However, we wanted more as we felt the design warranted better finishing, variations of brush patterns mixed with polished and sandblasted surfaces. So we broke the 4 windows into individual components, so that each part could be finished/ poslished/ brushed before assembly. This also allowed the watch to be re-finished in the future if needed. Ultimately the watch design ended up with more than 35 parts, much like making 4 separate watches and combining them.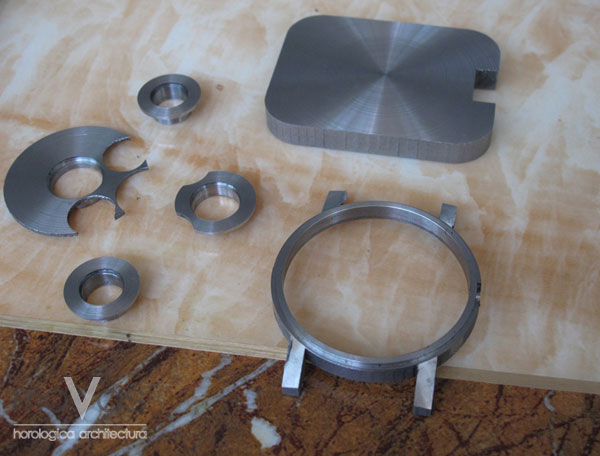 The image below shows how the watch originally fitted, which was in line with the mindset of bigger is better at that time. The original proof of concept did show that although large, the watch was actually wearable due to the landscape format and relatively normal lug-lug dimensions.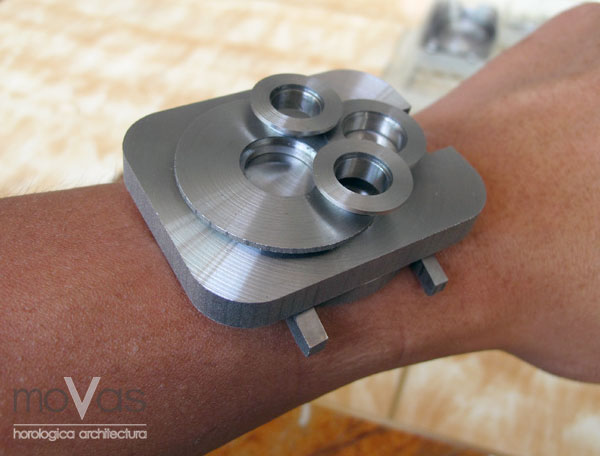 At our moVas 2012 show, we finally managed to resolve all the issues associated with the concept and came out with the first working prototype of the watch. The pusher was in-board for the big date and the large display for the left window was resolved by using the bezel as markers. We were delighted but felt that at it's present size, it would not be commercially viable to produce and hence the project took another backseat.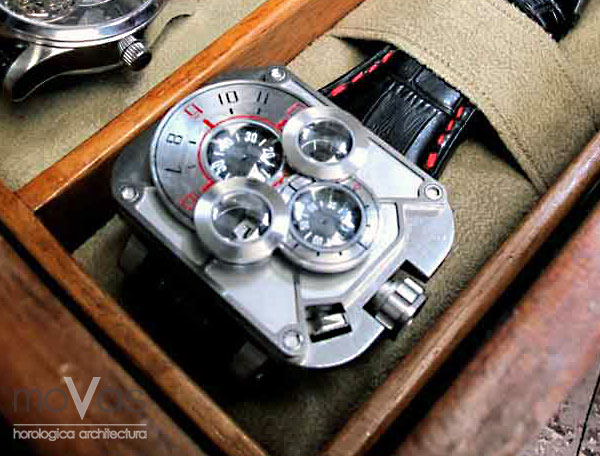 2 years on, in 2014 after alot of soul searching, the time was finally right to re-look the mecha 01 as all good ideas don't die, they just go to sleep. We changed the name from mecha 01 to the Twin Timer and put it under the 'Exotica' range of watches. This allowed us to have a sub-brand within moVas where we could create watches that were more unique and challenging in terms of construction, and time display. The rounded corner main case gave way to a more octagonal case shape which was being experimented on the military case bezels and Oceaners. This made the watch more wearable, condensed the 4 windows to a more focal position and gave the watch a more compact appearance. We also decided to go with titanium for the case material to lighten it up and finally in 2015, after 7 years of iterations, gestation, changes and improvements, the Exotica Twin Timer was finally born.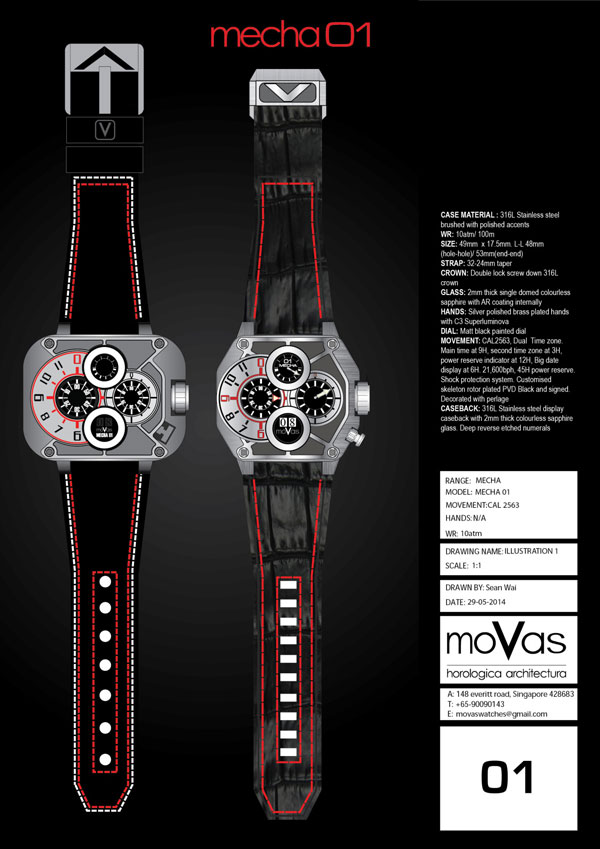 Alot of times, these journeys yield a very positive message, and it is no different here. What it has taught us is that nothing is impossible if you put your mind to it and dogged determination trumps all the hating voices we have heard throughout this long road. Chase your dreams, because you never know where they will lead you.